A new Windows experience, bringing you closer to the people and things you love. Windows 11 provides a calm and creative space where you can pursue your passions through a fresh experience. From a rejuvenated Start menu to new ways to connect to your favourite people, news, games, and content—Windows 11 is the place to think, express, and create in a natural way.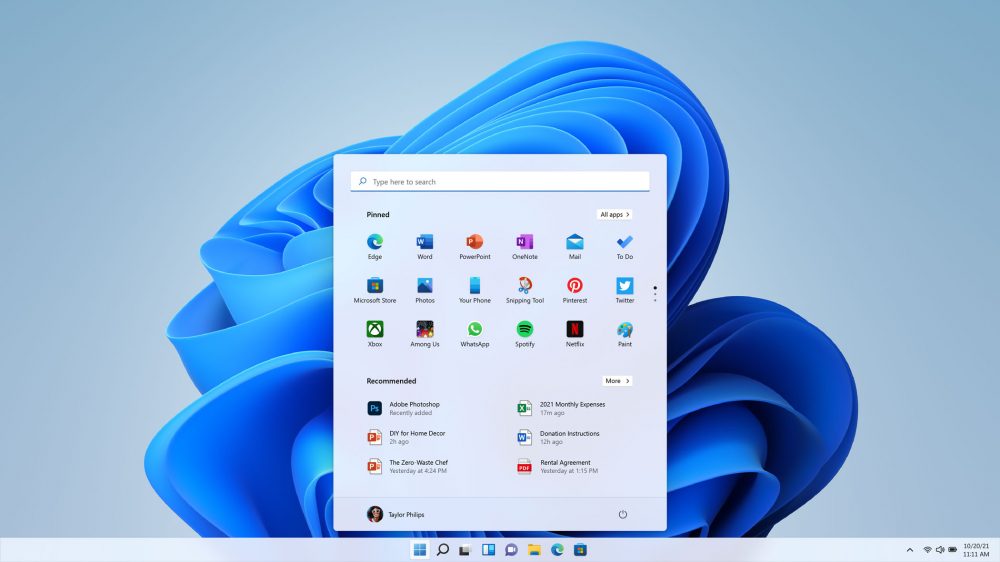 Redesigned for productivity, creativity and ease
Access all the apps you need and multi-task with ease with tools like Snap layouts, Desktops, and a new more-intuitive redocking experience.
They've simplified the design and user experience to empower users productivity and inspire their creativity. It's modern, fresh, clean and beautiful. From the new Start button and taskbar to each sound, font and icon, everything was done intentionally to put users in control and bring a sense of calm and ease. They put Start at the centre and made it easier to quickly find what users need. Start utilizes the power of the cloud and Microsoft 365 to show users their recent files no matter what platform or device they were viewing them on earlier, even if it was on an Android or iOS device.
Teams for Everyone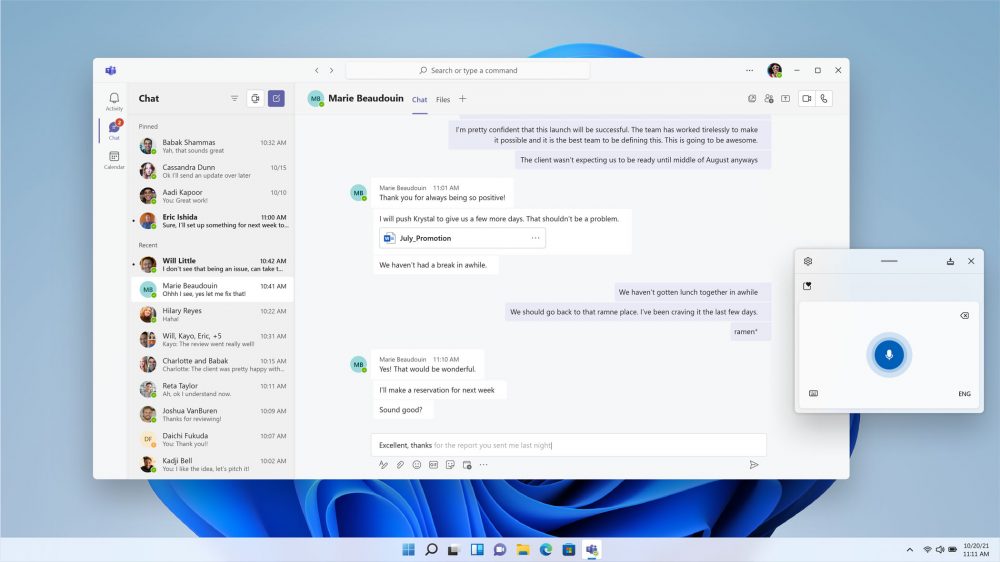 Integrating Microsoft teams with Windows 11 into the taskbar allows users to quickly connect with their loved ones. It lets you instantly communicate with your loved ones via Windows, Android or iOS via text, chat, voice and video. Friends and family who do not use the Teams app can be contacted via two-way SMS. Users can present or mute teams directly from the taskbar.
Having a default videoconferencing solution baked into the OS will feel like an excellent addition to many users. Even if, as some may note, there are better alternatives available.
Minimum system requirements

There's been a lot of discussion as to which devices are eligible for Windows 11. Regardless of the TPM requirement, others are simply wondering if they need to look to upgrade their PC or laptop soon.
For now, Microsoft have published the requirements for the update, but they are subject to change as we near release and the company take feedback on board.
This feedback looks to have made an effect, with Microsoft posting a support post in how to tell if your PC is enabled with TPM 2.0 so it can be eligible for an upgrade to Windows 11.
Intel, AMD and others are already working on compatibility for Windows 11, making sure that processors and graphics cards are compatible as soon as the upgrade launches on October 5.
Processor: 1 gigahertz (GHz) or faster with at least two cores on a compatible 64-bit processor or SoC
RAM: 4GB
Storage: 64GB
System Firmware: UEFI, Secure Boot capable
TPM: Trusted Platform Module 2.0
Graphics Card: DirectX 12 or later with WDDM 2.0 driver
Display: 720p, 8-bit per color channel, at least 9-inch diagonal
Internet Connection and Microsoft Account: Windows 11 Home requires an active internet connection and a Microsoft Account to complete initial, first-use setup of the operating system, or when switching a device out of Windows 11 Home in S-mode.
Upgrade to Windows 11 on Windows 10 device
If your existing Windows 10 PC is running the most current version of Windows 10 and meets the minimum hardware specifications it will be able to upgrade to Windows 11.
The upgrade rollout plan is still being finalised, but for most devices already in use today, we expect it to be ready sometime in early 2022.
Not all Windows 10 PCs that are eligible to upgrade to Windows 11 will be offered to upgrade at the same time. To see if your PC is eligible to upgrade, download and run the PC Health Check app. Once the upgrade rollout has started, you can check if it is ready for your device by going to Settings/Windows Updates.